Other Mission Opportunities
Current Project
Christmas Gift Wrapping at the Aspley Hypermarket
Each year St Faith's partners with the Aspley Hypermarket to contribute to the community by offering charity gift wrapping services. Our gift-wrapping service will commence on Saturday, 2nd December 2023 and conclude on Saturday, 24th December. Gold Coin Donation per gift!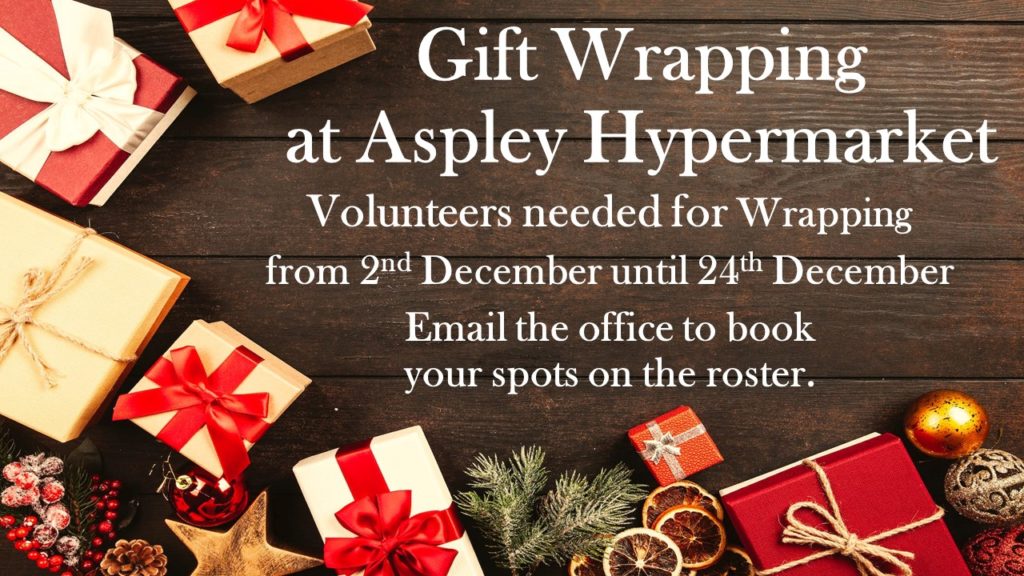 Our operating hours are as follows:
From Saturday, 2nd December until Sunday, 10th December: 10am to 3pm daily.
From Saturday, 2nd December until Sunday, 10th December: 10am to 3pm daily.
From Monday, 11th December until Saturday, 23rd December: 10am to 8pm daily.
On Saturday, 24th December: 8:30am to 4pm.
In order to effectively serve our community, we are seeking volunteers to fill our roster. Get in touch if you want to help make a difference to the community. We kindly request that volunteers contribute a few hours of their time on multiple occasions throughout our operating period. Any assistance, regardless of its duration, is greatly appreciated. To lend a hand, please email the office with your contact details. Email – office@stfaiths-strathpine.org.au
Samaritans Purse – Shoe Box Appeal
Again, this year St Faiths have supported the Samaritans Purse Shoe Box appeal. Thank you to all who have filled a shoebox for a child in need. It really is a great way to bless them and shine God's light into their world.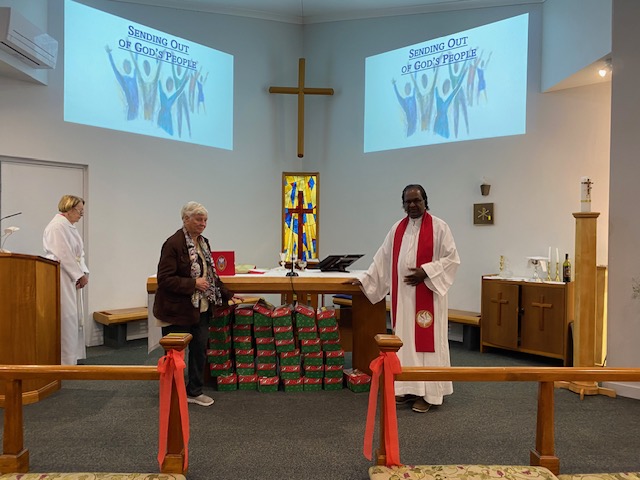 Disability Aids for Pacific Islands
We have had a great response to our drive to gather disability aids for those in need on one of the Pacific Islands. Recently some men at our parish recently gathered these together. Photos below.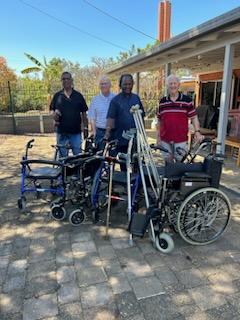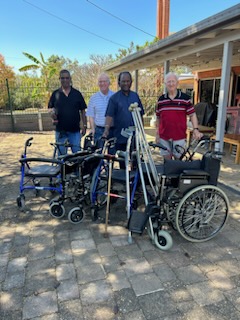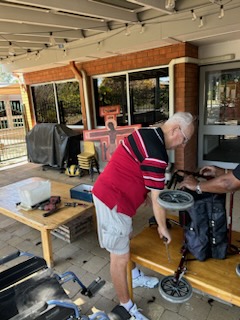 Past Project
Sewing Machines for the Solomon Islands
In September 2022, Hilda who attends the 7.30 service on a Sunday brought her Mum Katherine, who is visiting from the Soloman Islands, to a Wednesday service. Katherine is the Diocesan President of Mothers Union in the Soloman Islands and has approximately 7,000 members. Over a cuppa after the Wednesday Service Katherine mentioned the MU Members have a lack of sewing machines to begin small businesses to support their families. Having these sewing machines will not only enable families to support themselves but also their community and bring their community together. Fr. Daniel has suggested we see if we can gather support for the MU Members by putting out a request for new or second hand sewing machines…. can you help or do you know someone who has a sewing machine gathering dust at home. Bring any machines into the Ministry Centre and we'll have them checked and through Daniels contacts get them to the MU Members in the Samoan Islands…. let's see how many women we can bless with this…..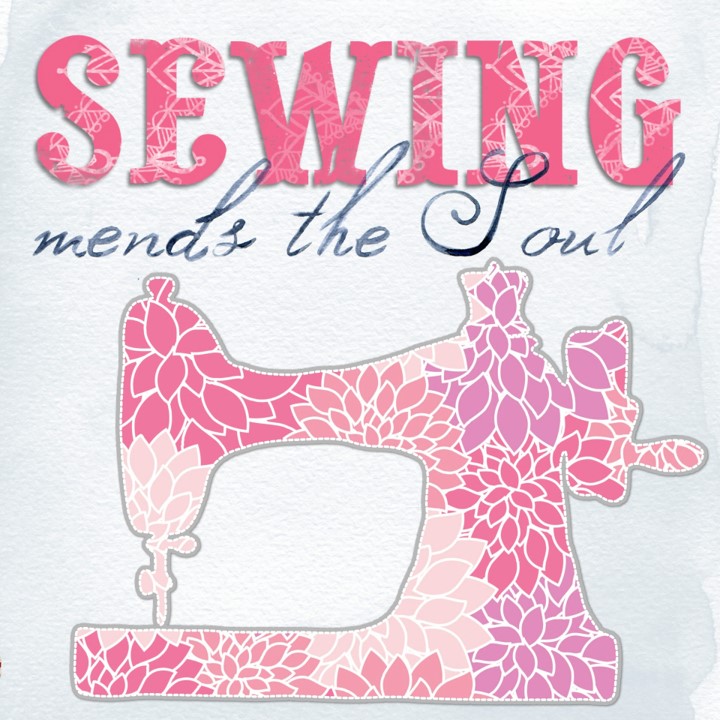 Update February 2023
You may remember last year we were collection donations of sewing machines to send to the Solomon Islands Mother Union. Well, here are the results.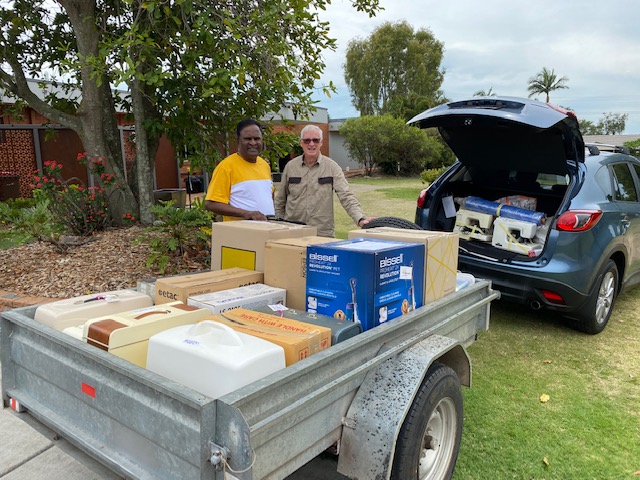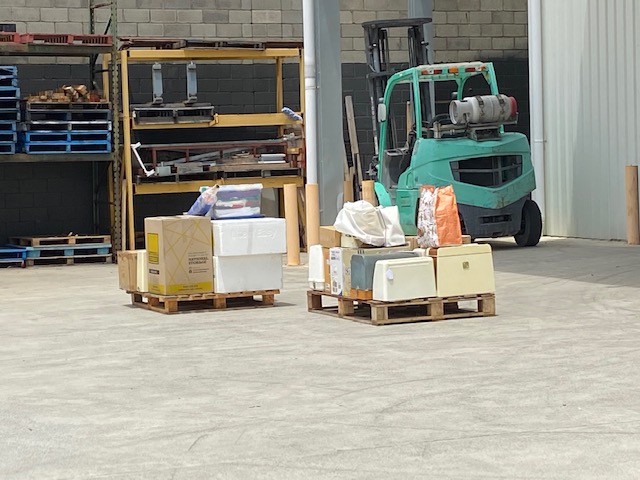 Fr. Daniel and Rob Lynam loading up 16 donated, checked and serviced sewing machines and 8 boxes of material ready for shipping mid February to the women in the Anglican Dioceses' of Malaita in the Solomon Islands. These machines will go to the women who will use their skills to make items to sell in the market place. The machines will be received and distributed through an Anglican Church Organisation called Mothers Union.
Update April 2023
Update from Cathy Lamani – Arrived back from our trip to the Southern Region and Arekwa Regions. A very successful two weeks mission. Upon arrival, my Agent here also delivered the machines to my house. You will see in the photos my team from the Diocese, who will be carrying the machines on the boat again to Malaita.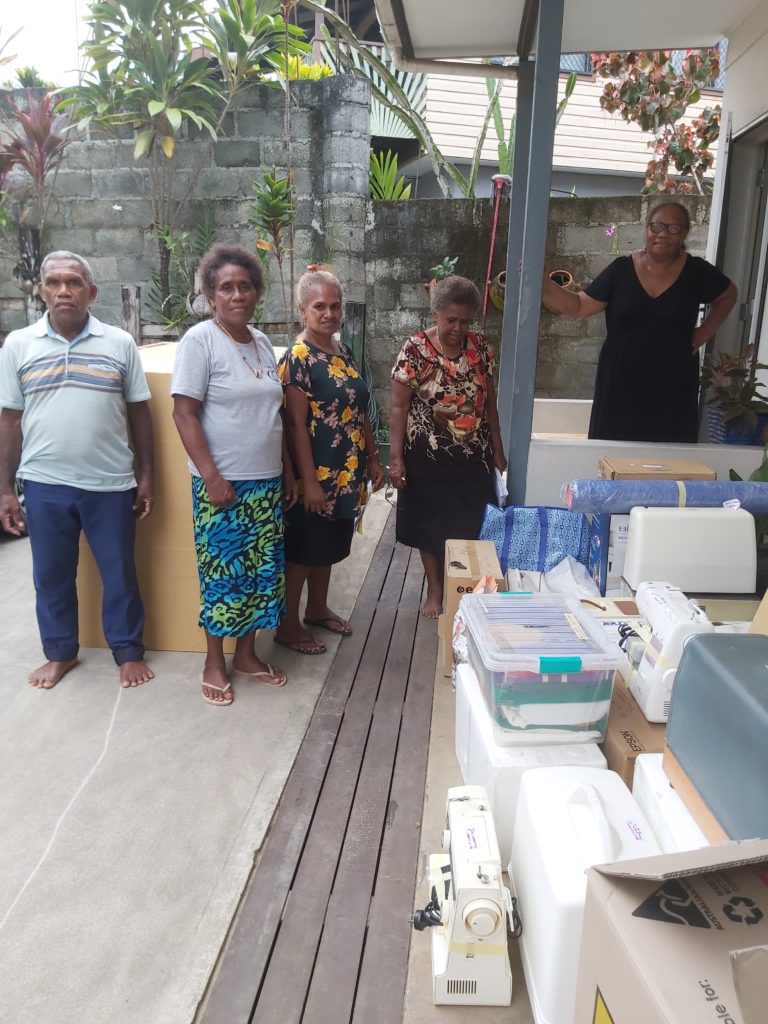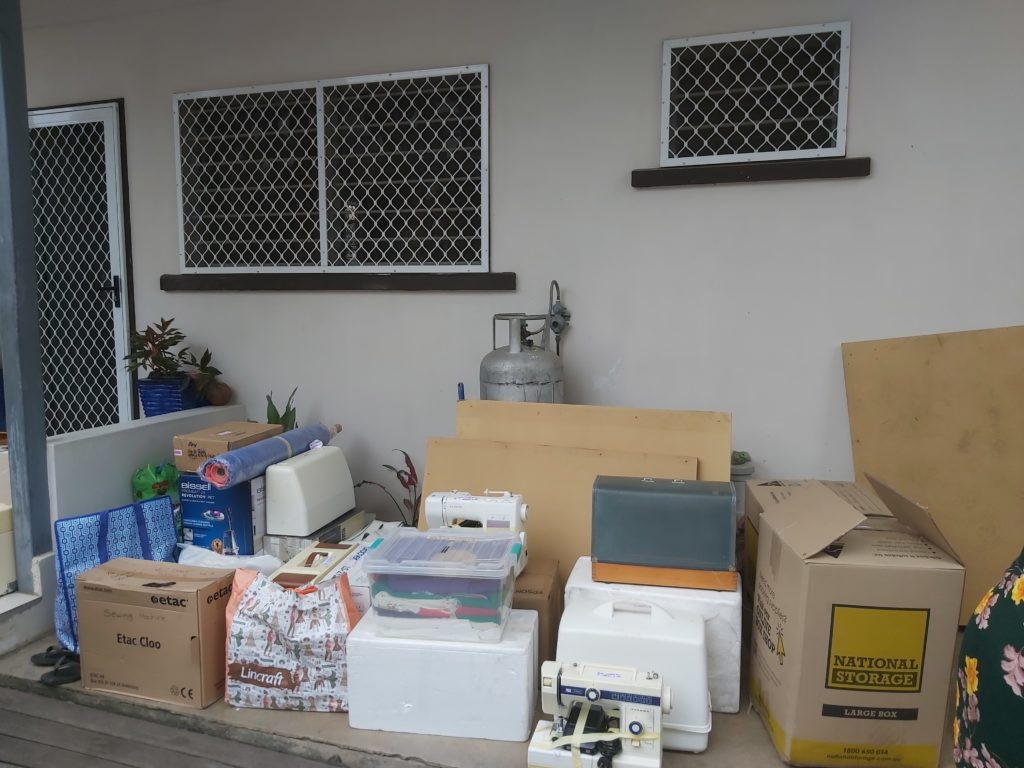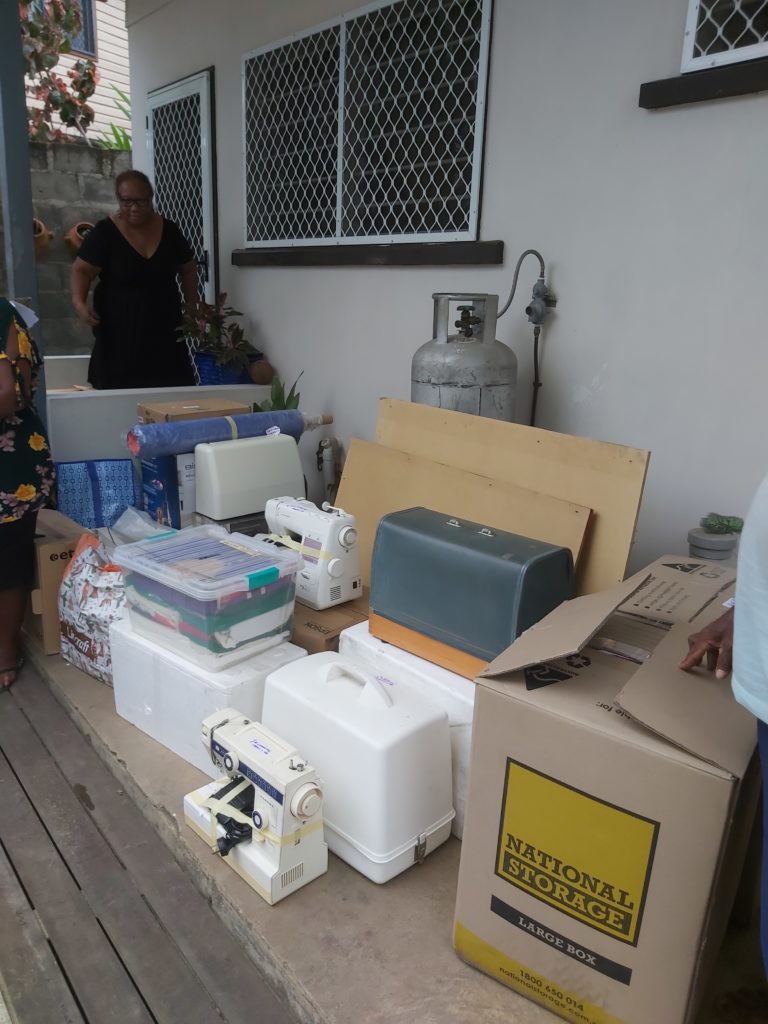 A further email has also been received…. Below is the email from the Mothers Union Members at Auki, Malaita Province by Assistant mothers' union President.
On behalf of our diocesan president, diocese of Mothers union executive, council, and vice president. We are happy for the kind donations of machines and materials towards mothers' union at Malaita Province. The machines and materials will help us to start off the sawing machine apparel project throughout the diocese of Malaita. The machines will be placed in Auki at the Gwendolyn Hall where the project will start. The project will help the women and children in our villages to have uniforms and clothes. Mothers will also be trained how to saw clothes. We wish the mothers union at Strathpine God's blessing throughout the year and their plans. Attached are photos of the Gwendolyn hall and the machine photo.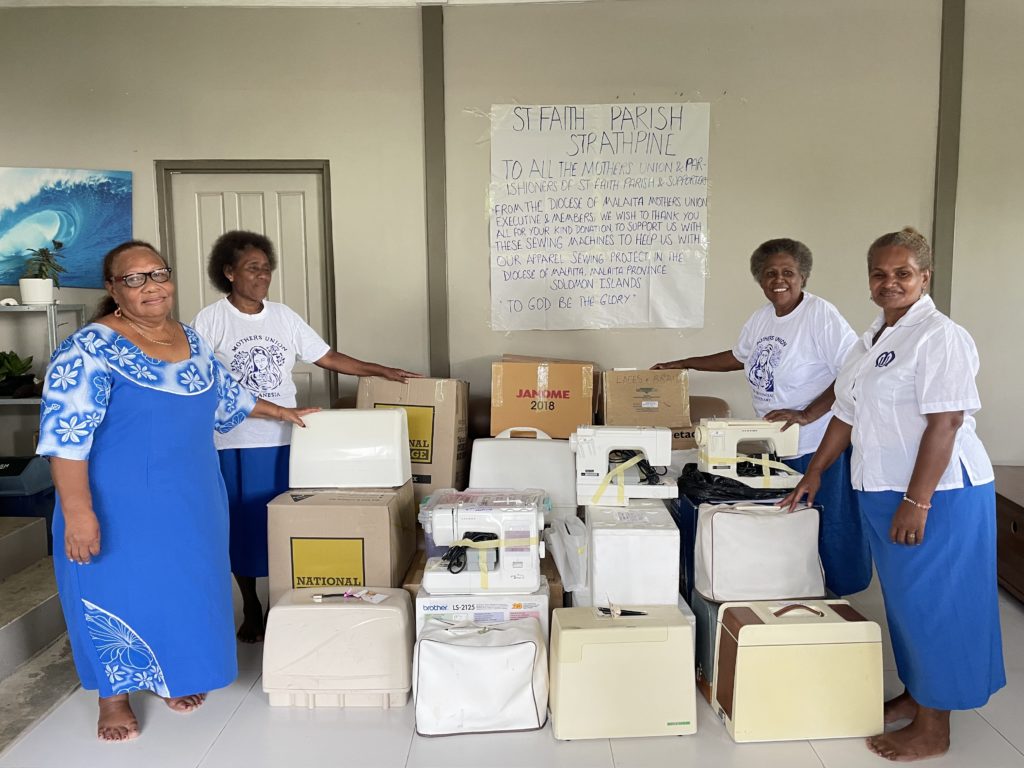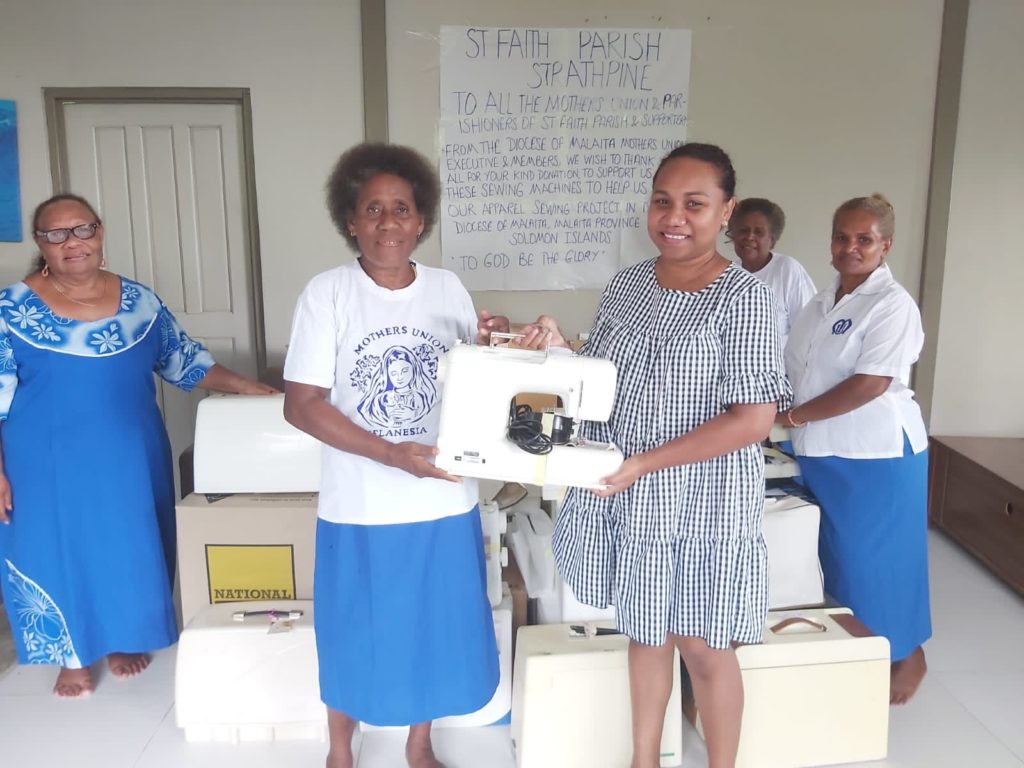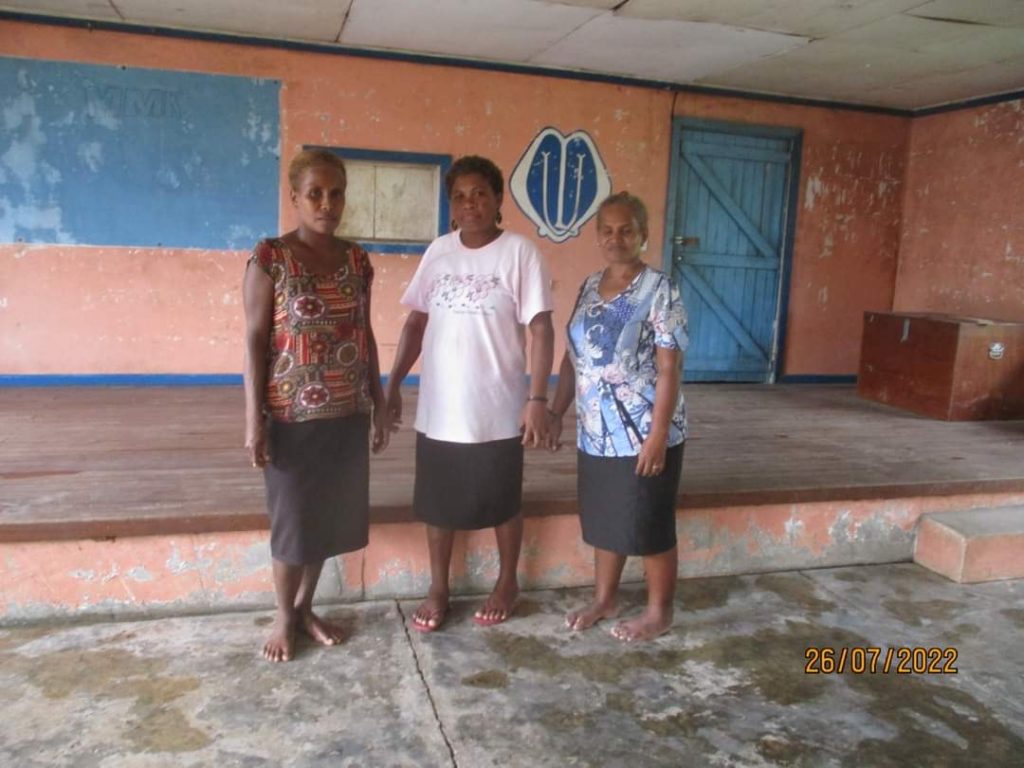 Update November 2023
Greetings to you from the mother's union members of the Diocese of Malaita. You will see from these photos the members starting to use the sewing machines as well as using the pieces of materials that were sent in boxes with the machines. They have sewn dresses, skirts, children's pants, as well as sewing mothers' union uniforms especially the blue skirts recently.
It has taken us a long rtime to start the sewing apparel, as we had to renovate our old rundown hall, and to connect electricity back into the building so that the ladies can use the machines. With the connection of the power and water back into the building, we had to fundraise to pay our bills.
The women are happy that now that the sewing apparel has started, it will help us a little to raise funds to meet the cost of our mother's union prayer books, and wave of prayer cards as well as other publications that we needed to be printed for our members.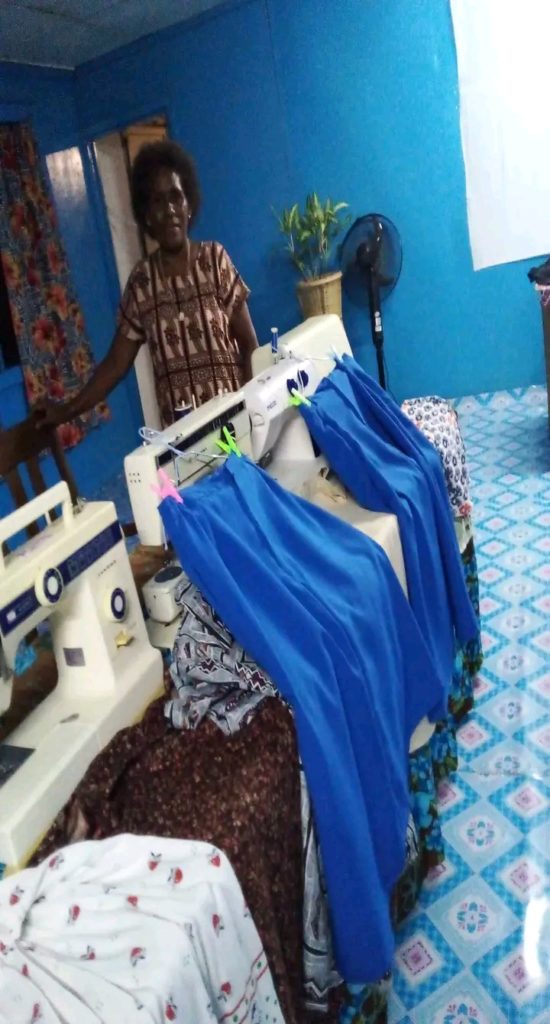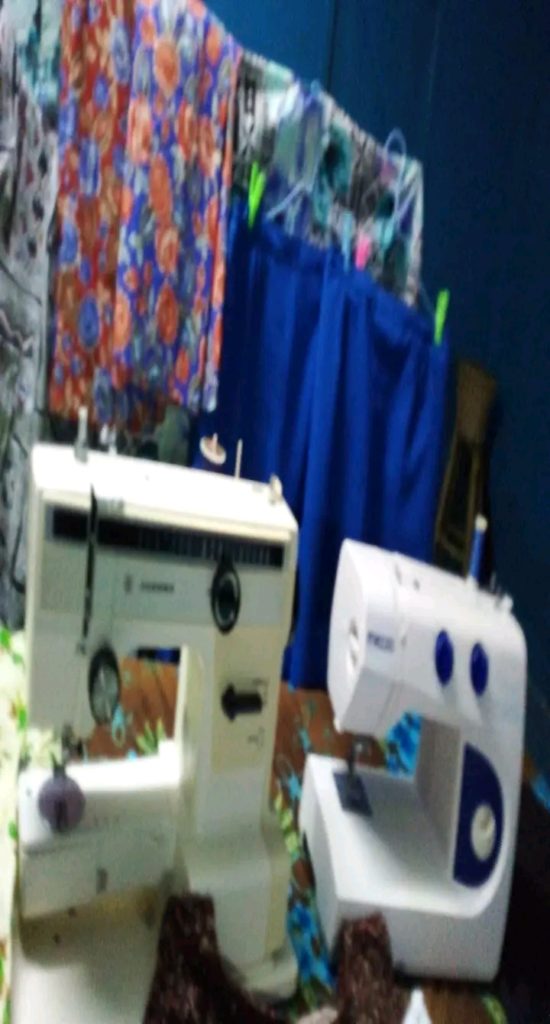 . . .