St Faith's Anglican Church Strathpine
Gathering at 7:30am and 9am every Sunday.
Next Gen Kids Activities during 9am services.
10am Holy Communion Service every Wednesday
For Worship @ Home join us on our Live Stream for our 9am service.
Now available on our YouTube Channel.
Welcome Father Daniel Sitaram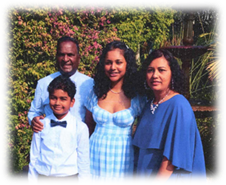 Fr. Daniel has been the rector in Stanthorpe for the past 5 years. We firmly believe the Holy Spirit was in this appointment, there was a great covering of prayer as we met and discerned who would be our next parish priest and so we trust and pray that as you get to know Fr. Daniel you will see in him as we did, his love for serving our Lord Jesus Christ, his strong work ethic, his obvious father heart, and his sense of fun and humour. He has witnessed Gods healing in his family and as a result his trust in God and his faith is strong and unwavering.
Bishop Jeremy will Commission Daniel as our Parish Priest on the Sunday 14th August at 6pm.
Upcoming Events
4th September 2022 – Father's Day at St Faith's 9:00am family service with Sunday School. Come and join us to celebrate Father's Day. Refreshments to follow after the service.

Our parish is seeking a Youth Minister – see here for more details.